With the digital world being guilty of reducing our attention span to less than 10 seconds, content creation now comes with challenges. Beyond knowing the audience's behaviour and the appropriate channel to convey a message, airlines have to seek information that carries enough value.
Singapore Airlines is not just another good airline. It is the only one that has kept its position in the top 3 of the best airlines worldwide ranking by Skytrax in the last 10 years consecutively. Singapore Airlines is for everyone working in the industry the equivalent of high standards in service, quality, efficiency, and customer oriented KPIs.
Travellers want choice; they want to be able to look at relevant information at different points in time. Destination content answers the users' need of the right information at the right time, adding value to the multiple stages of the journey. Although most of the airlines provide some basic travel information (where to go, where to stay, restaurants, etc.), the matter of finding ways to offer an added value, such as up-to-date content with high usability, has become crucial to all the players within this extremely competitive industry. 
Singapore Airlines, one of our most reputed clients, has been able since 2018 to add more value to the passengers's journey by providing high quality and relevant content of its 98 destinations.
As part of their digital content strategy to enhance customer experience, the airline sought to enrich the content of their destination pages. The aim was to go the extra mile by offering, not just basic information about the destination, but giving the user a complete trip planning tool containing everything the traveller needs to make the most of the trip.  This is an example of how the leading airline is working hard on developing an outstanding customer experience strategy.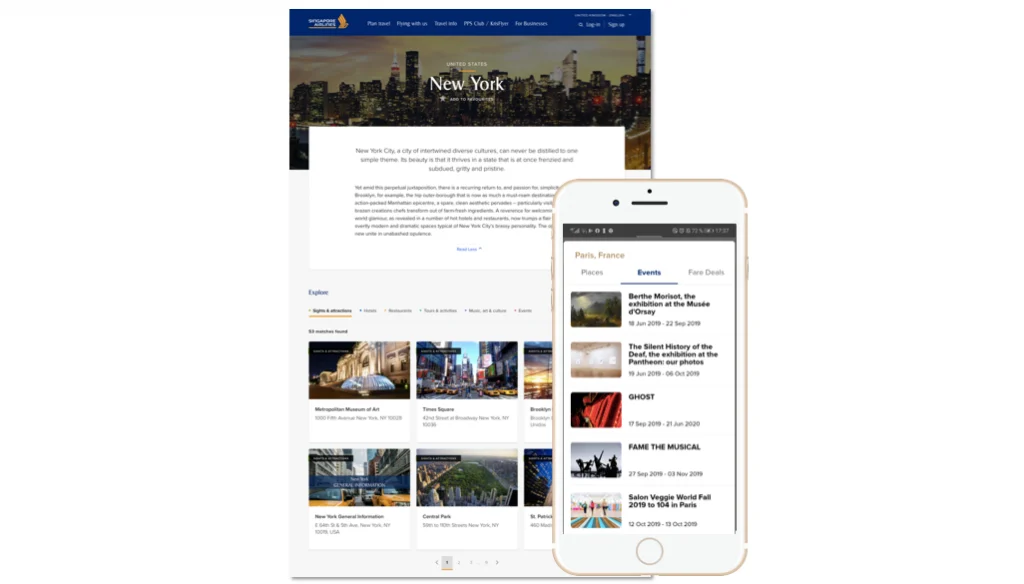 All Singapore Airlines customers are now able to keep up-to-date of everything happening at the destination they are travelling to, by combining the live agenda of the cities, together with the most relevant sights and attractions and other 3rd party ancillaries of the airline: top recommended hotels via Agoda-booking.com, tours and activities from its partnership with Viator, and more. The web, web mobile and app users can directly book from the airline's partnerships (with their own affiliation code) thanks to Smartvel's technology, which acts as a meta-searcher solution of everything there is to experience at destinations.
Singapore Airlines is now using Smartvel's API to offer users the best content from its 98 destinations. Moreover, they have recently incorporated Smartvel's destination content into their App, with a very cool feature that allows users to search a destination by photo recognition!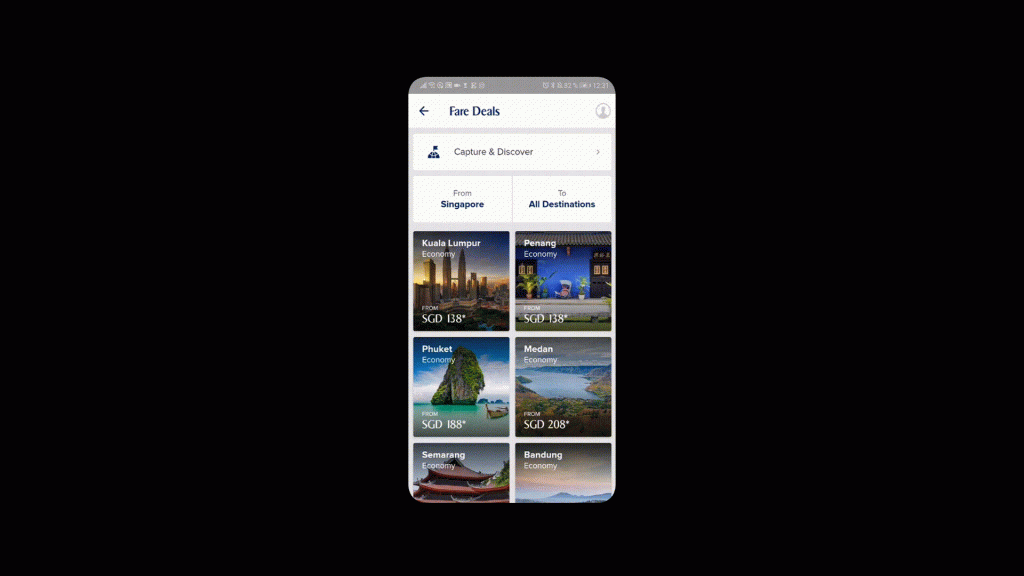 You can check here an example of the integration in New York's destination page.