Our Technology
AI-Driven Content,
the Power Behind Smartvel
Our AI technology gathers, classifies, curates, and
translates content from thousands of websites.
Why Choose Us
A Data-Centric Solution
We have built an end-to-end solution entirely in-house, powered by our data-centric product and proprietary algorithms.
Over the past seven years, we have meticulously collected and enriched data, resulting in highly sophisticated data and geomodels.
With our custom and optimized engine, we seamlessly transform non-relational data from over 1.000 sources, backed by more than 20 different algorithms acting sequentially into highly relational and action-driven knowledge.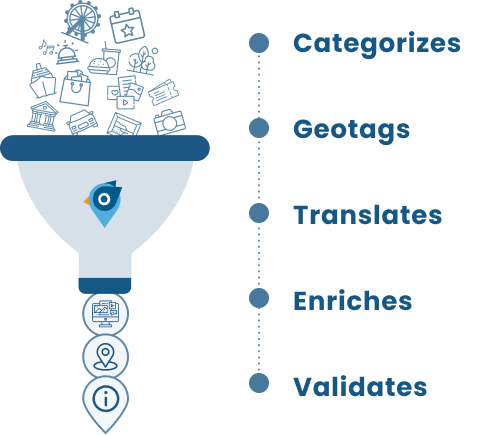 TRUSTED TECHNOLOGY GLOBALLY
Industry Leadership and Adaptability
Recognized and Awarded by
the Industry

Best Travel Tech
Startup

Best Big Data Solution for the Travel Industry in Spain

Top 8 Startups to Look For
This comprehensive collection, combined with our state-of-the-art data architecture and infrastructure, positions us as industry leaders.
Through iterative agile development and continuous delivery processes, we maintain our cutting-edge position and adapt to market demands.
Our system supports more than 20 languages, ensuring a global reach.
Our access to a massive number of taxonomic databases gives us a significant advantage in the industry, enabling us to deliver unmatched value and precision.
JOIN THE REVOLUTION
The Ultimate Destination Content Solution
Countries Deploying Solutions
Global Market Share of International Passengers in ENtryDocs
Countries with Destination Content Coverage
Countries with Destination Content Coverage