Travel Tips
Essential Tips to Make
Every Trip a Success
Maximize your travelers' experience with expert advice.
ABOUT TRAVEL TIPS
Key Information in One Place
Enrich your landing pages, platforms, and communications by sharing crucial destination information,
including transportation options, currency, the best time to visit, and safety recommendations.

Images to inspire and
grab user's attention
Tips for countries and cities
WHAT TO KNOW
Advance Planning
Provide insights into the destination's transportation, currency, technology, weather, and safety to help your customers plan their trip in advance.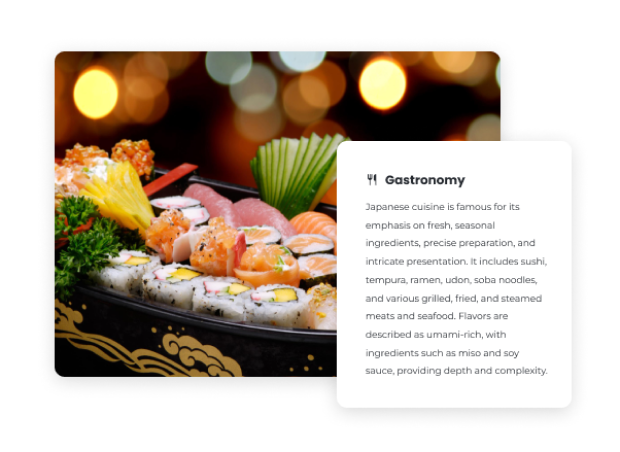 WHAT TO EXPECT
Destination's Signature
Overview of the destination's culture, history, gastronomy, and language to know what to expect.
WHAT TO SEE
Inspire to Travel
Complement key details with our captivating images of the destination and build a fully-rounded solution.
TRY TRAVEL TIPS
Tailor Digital Travel Tips
Customized travel tips and images.

Unique content to improve your SEO.
Multipurpose API with endless possibilities.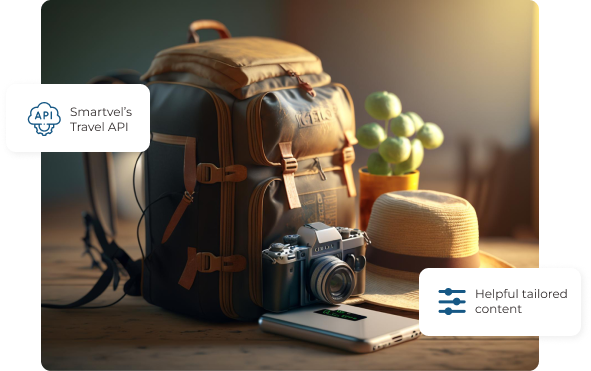 WHY TRAVEL TIPS
Boost Confidence,
Meet Expectations
Make your customers feel confident with key travel information.
Ensure that your customers' expectations are met.
Broaden your customers' travel options by introducing them to unfamiliar destinations.
Expert Tips and Inspiration to
Explore The World
Increase your value proposition with our Travel Tips tool.