Content Solutions for Destinations
Promote your Destination
with Relevant Content
We help Tourism Boards and DMOs to improve destination
visibility through digital content enrichment.
Why Choose Us
We help you make the most out of your destination
When planning trips, travelers are looking for unique experiences. It's important for destinations to showcase
their exclusive cultural events, festivals, and outdoor activities with attractive and up-to-date digital content.

Local Activities

Music & Festivals

Arts & Culture
Sporting Event

Museums
Get access to:
Real-time and accurate content to provide the live agenda of the destination.
Outstanding digital assets such as images, curated descriptions in multiple languages, videos, and third-parties integrations.
Easy-to-implement widgets and API.
How to Use Our Products
Put Destinations on The Map
Capture potential visitors by enriching your website, digital channels, and social media
with inspiring visual content during the inspirational phase of travel. Make the content available in Tourist Information Centers at the destination

Offer personalized travel experiences

Increase visitor and local loyalty

Promote and support the local economy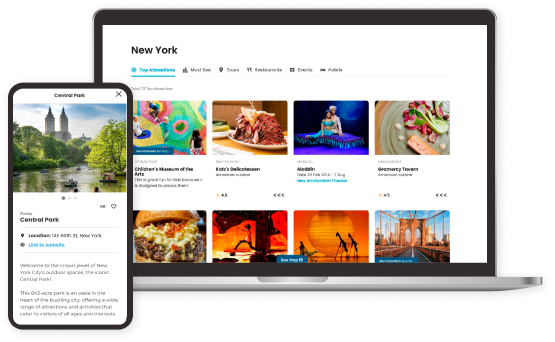 Personalized Short Videos
Boost your SEO with engaging short videos and reels on social media.
Trip Planner
Ensure unforgettable experiences for your travelers with this interactive solution.
Event Calendar
Provide an up-to-date agenda of events, customized to your customers' preferences.
Show off your destination
 Position Your Brand Along the Customer Journey
Whether you have a DMO or run a Tourism Board, enrich your communications and promote destinations with
emails, blog content, newsletters, and social media.
USE CASES
Eager to Explore Further?
Discover the ways in which Smartvel's products and ultimate solutions have
benefited others and can also assist you.