Content Solutions for Hotels
Destination Content
to Attract & Engage
Your Guests
Enhance customer experience by providing content
that helps them discover the best plans and experiences
near your properties.
Why Choose Us
Elevate Your Guests' Experience
Our customizable content solutions enhance customer's experiences by providing immersive travel
suggestions near your establishment from the inspiration phase to experiencing the destination.
Enhance SEO
With unique content and destination videos.
Deliver tailored digital solutions
For every stage of the journey.
Customize Content
Hotel activities, restaurant information, map of local attractions.
Optimize email communications
Pre-booking, pre-departure, abandoned cart, blogs, newsletters.
Foster customer loyalty
Taking care of the guest beyond the hotel experience with destination recommendations.
Boost ancillary revenue
Through third-party partnerships.
How to Use Our Products
Inspire, Captivate & Stand Out
At every stage of your customers' journey, we offer innovative solutions to
elevate their trip from start to finish.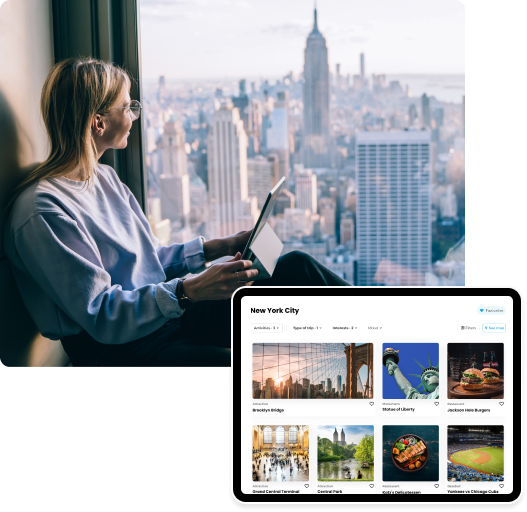 Inspire customers during the inspirational phase.
Use Explore&Go and Travel Tips on your website, app, and landing pages.

Captivate travelers in the planning stage.
Captivating visuals, videos, curated descriptions, and maps featuring your hotels and nearby points of interest.

Offer customers an unforgettable journey.
With solutions like Trip Planner, available on hotel TVs, kiosks, and digital concierge services.
best practices
Want to see us in action?
Find out how Smartvel's products and solutions have worked wonders for others and can do the same for you.
Discover Our Solutions
Unleash Your Company's Potential
Smartvel can help your company convert more customers, increase revenues, and improve
its presence throughout the customer journey.