EntryDocs
Make Travel Stress-Free
A traveler-specific advisory hub with travel
requirements, necessary documentation, visa
information, health requirements, and more.
About entrydocs
Everything Travelers Need, in One Place
Ensure your travelers are prepared for their trip by providing clear and structured details on existing travel requirements,
current advisories, and required documentation according to global official sources.


TRAVELER Specific
Individualized Response
Provide each traveler with tailored guidance according to their origin, nationality, residency, purpose of travel, age, and length of stay.
WHY ENTRYDOCS
Take Stress Out of Travel
Prepare travelers with clear official information on requirements, advisories, and documentation worldwide. Simplify booking with tailored info and traffic lights for confidence and ease. Ensure company peace of mind creating a single source of truth (SSOT) content covering all present and future travel and health requirements. Features include fast updates, accessibility compliance, customization, and multilingual support.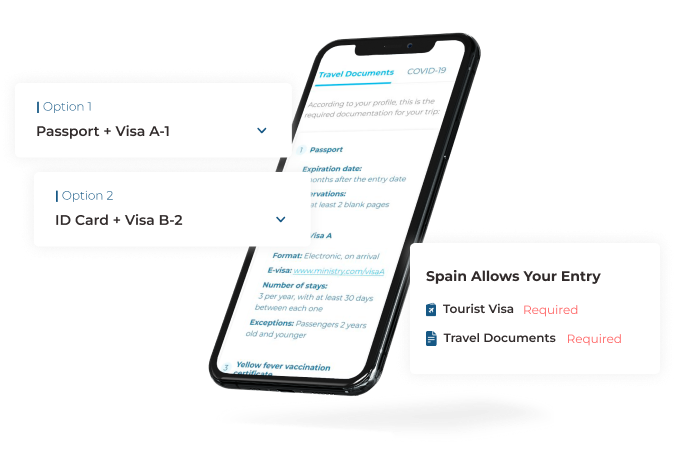 Inform at all Stages

Inform at all Stages
Provide fully personalized answers for every step of the journey: exit, transits, and final destination.
Ease and Simplify
Ease and Simplify
Save travelers the arduous task of researching travel requirements and reduce the risk of missing critical details.

Boost Revenue & Conversion

Boost Revenue & Conversion
Streamline bookings with clear CTAs, and boost commissions on visa and insurance sales through EntryDocs.

Worldwide Leaders
Worldwide Leaders
We proudly secure a 30% market share among global travelers through strategic partnerships.
ALWAYS UPDATED
AI Monitoring to Detect Changes in Regulations
Our unique AI technology monitors hundreds of global official sources to detect changes in travel requirements, alerting our teams to update the content in just a few minutes.
one-stop solution
Unify Your Requirements
Include your own conditions, instructions, and any other information in exclusive menus to provide a one-stop solution where to find all the key details for a safe trip.
EXPAND WITH ENTRYDOCS
The Most Cost-Effective Tool
Ensure that you provide the most accurate and complete information on the market while dedicating your internal resources to other tasks and reducing your internal costs.
Best practices
Want to see us in action?
Find out how Smartvel's products and solutions have worked wonders for others and can do the same for you.
Inform Travelers
With EntryDocs, you can keep travelers within your ecosystem and save them the hassle of looking elsewhere.