Event Calendar
All the Events,
for Every Destination
Take your customers' travel plans to the next
level by providing them with all the events
happening during their travel dates.
Discover Event Calendar
 Inspiration in Destination
An up-to-date agenda of events personalized to your customers' preferences to ensure they make the most of their destination.

Music & Festivals

Art & Culture
Sports Events
Local Activities
& Much More
ABOUT Event Calendar
Events for Everyone
Provide the perfect plan for every traveler by personalizing the results according to their interests and travel dates.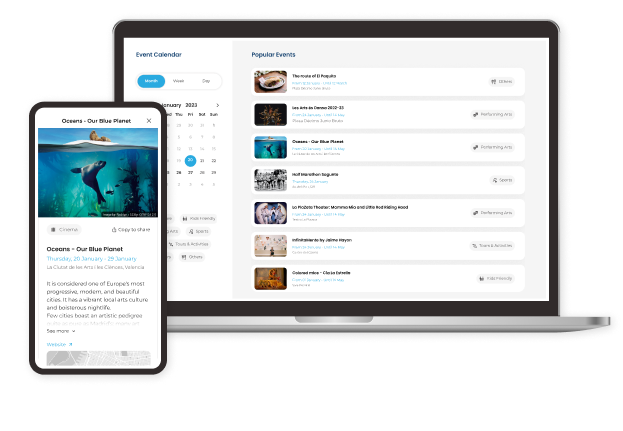 Why Use Event Calendar
Add Value,
Build Travel Loyalty
Persuade and inspire in your digital interactions, promotions, and communications, establishing your brand as the go-to source for events and experiences in your destinations.
provide experiences
Make Trips Unforgettable
Share with your customers the event calendar filtered by the dates of their trip and be present with them also during their stay.
BOOST EXPERIENCES
Unique Content
Leveraged by AI
With reviewed, translated, categorized and geolocated information, our AI technology collects data from hundreds of sources in record time, and offers your clients all kinds of experiences.
INSPIRE
Social Media Networks as the New Search Engines
You need to be present where your customers seek travel inspiration. Utilize the leisure offerings of your destinations on social media and digital channels.