Destination Content
Attract, Convert,
and Delight Travelers
Enhance your SEO positioning and increase sales by utilizing the
appropriate content, at the right time, and tailored to each profile.
About Destination Content
Ignite Travelers' Passion
From static content, such as points of interest and restaurants, to dynamic content, such as cultural and sporting events, our content and digital solutions are designed to provide the right information at the right time. We can also include your own content or agreements with third-party vendors, such as tours and activities providers.
Why Choose Us
Compelling Reasons to Use Destination Content
01
Amaze your customers with compelling content, persuade those who remain uncertain, and guide them seamlessly to the booking funnel.
02
Improve your SEO positioning by using specific texts, keywords, and videos on your landing pages or social media.
03
Once a reservation is made, propose them personalized plans to generate additional revenue through ancillaries services.
How to Use Our Destination Content Solutions
Our content is carefully crafted to fit seamlessly into your customer's journey. Whether you're looking to inspire travelers in the earliest stages of their planning, engage them once they've made a reservation, or generate additional revenue through ancillary services, our content and team of experts can help.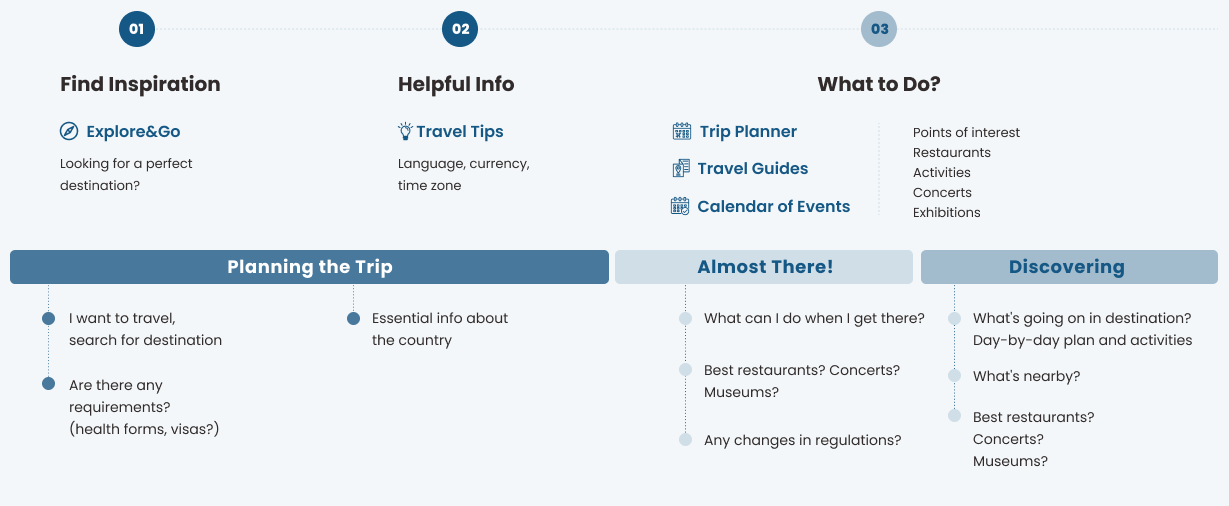 Where to Use IT
Our Capabilities are Limitless!

Landing Pages
Enhance your content.

Emails | Newsletters
Send personalized content.

App
Engage users with more features.
Blog Posts
Feed it with destination content.

Social Media
Inspiring content.
Short videos and reels.

Bot
Provide details for those who ask.
Videos
At scale to feed your platforms.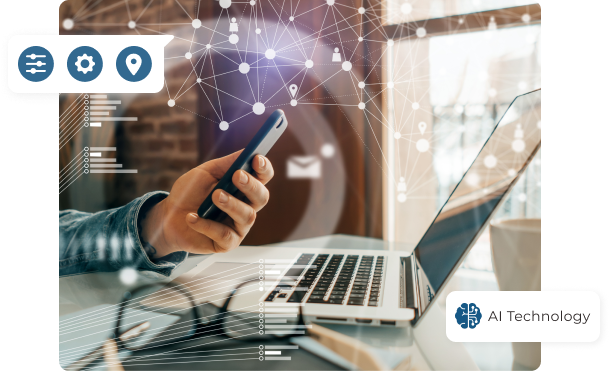 The Technology
and The Team
Our content is curated by our dedicated team and AI technology that processes over 2 million events annually from more than 400 online sources, Open Data, travel blogs, and activity suppliers. Our team of content curators reviews and verifies the information, which is also customizable. With over 500 destinations covered in 20 different languages, our platform continues to expand and evolve.
We Customize the Content to Make it Yours!
We have very useful ways of customizing content for your company, such as creating your own categories, prioritizing some content over others, or creating and selecting only the content that best suits your audience.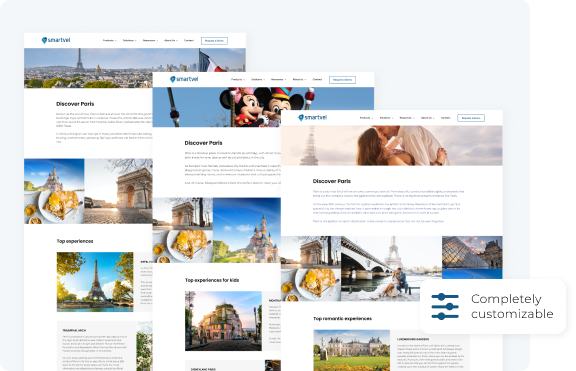 BEST PRACTICES
Want to see us in action?
Find out how Smartvel's products and solutions have worked wonders for others and can do the same for you.
Optimize your Resources!
We Work for You.
Forget about creating content and keeping it up to date,
we'll take care of it.