When a Swedish teenager held up a homemade sign stating 'School Strike for Climate,' no one thought it would turn into a global phenomenon. Yet, two years later, 17-year-old Greta Thunberg has become the face of sustainability, sparking a worldwide movement that extends far beyond her age group. As the aviation sector grapples with its environmental impact, 'Sustainability in the airline industry' has become a critical topic, and Greta's message serves as a poignant reminder of the urgent need for change.
Of course, she's not the only one who's embraced the responsibility of "going green." Millions of eco-conscious travelers expect a positive environmental response when it comes to the big questions of climate change. Fortunately, the sustainability of the airline industry recognizes its role in reducing carbon emissions for the sake of the environment.
Sustainability is a key topic at aviation industry conferences. After all, the airline industry is growing, not shrinking. According to an article in Sustainability Accounting, Management and Policy Journal,  "Over the past 50 years global demand for air travel has risen by 9 percent per annum (pa) and growth (at a reduced rate of 3-7 percent) is predicted for the next 20 years."
Fortunately, obstacles tend to produce innovative solutions. As the travel industry explores sustainability, there are opportunities to choose greener solutions. Each step in "going green" offers the opportunity to anticipate consumer trends and be a leader in aviation sustainability and customer service. Each of these "green" trends contribute toward the greater good of environmentally sustainable travel and a safe planet.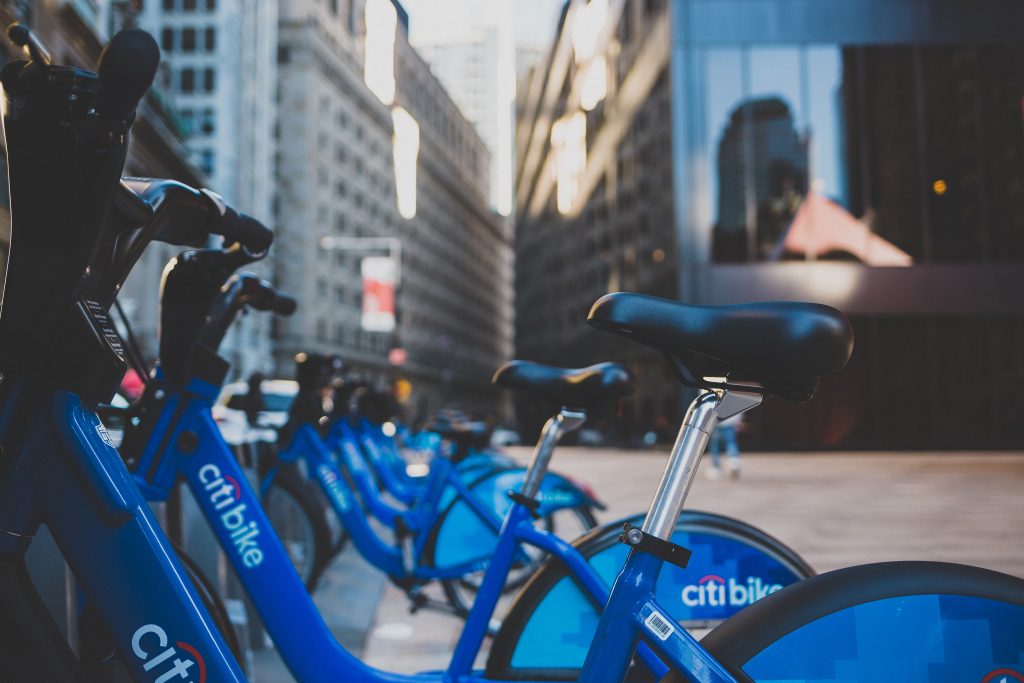 What Does it Mean to be Sustainable in the Airline Industry?
Investopedia defines sustainability as focusing on "meeting the needs of the present without compromising the ability of future generations to meet their needs."
From carbon offsets to reducing (or eliminating) single-use plastics, airlines are taking serious measures to address environmental concerns. In fact, Quantas CEO Alan Joyce, speaking at an IATA conference said that although the industry is taking seriously its responsibility with the environment, airlines should promote more all the efforts they are doing.
Flying isn't likely to have zero emissions anytime soon but it can shrink its carbon footprint. Which of these trends for sustainability in the airline industry has your airline already adopted?
1. Reducing Fuel Consumption
Improving fuel efficiency is arguably a good way to reduce greenhouse gases and some airlines are doing this by reducing weight on the airline. Reducing single-use plastics and adopting biofuels are two ways to reduce fuel consumption on current aircrafts.
2. Biofuels
United Airlines made history in June 2019 by operating the most eco-friendly flight. According to a United press release, they accomplished this by "using a 30/70 blend of low-carbon, sustainable aviation fuel provided by Boston-based World Energy, and traditional jet fuel." Biofuels are considered an effective sustainability practice. However, at the moment, they're more expensive than traditional jet fuel.
3. Eliminating Single-Use Plastics
Some airlines are looking to changes in consumer's buying habits and making adjustments such as dropping duty-free sales inflight. This reduces the need to carry extra inventory which lowers fuel consumption and speaks to the modern shopping habits of travelers.
4. Look Local for Food Service
Providing locally-sourced and seasonal foods reduces the carbon footprint of food transportation. While most lettuce that finds its way on airlines is shipped from California or Arizona to its departure airport, Singapore Airlines introduced a "farm-to-plane" concept on the world's longest flight. A 40,000 square foot vertical urban farm, just 5 miles away in Newark, grows lettuce and baby greens for the 19-hour flight.
5. Carbon Offsets
Protecting old-growth forests and planting new trees helps protect the environment. So does investing in projects like wind farms that focus on renewable energy sources. Some airlines offer options for passengers to purchase carbon offsets. United Airlines, for example, has partnered with Conservation International to advocate for nature-based solutions to climate change.
6. Educate Passengers
Not all passengers are as aware of their environmental options as others. Flying economy rather than business class and packing lightly are two ways to directly contribute to sustainability in the airline industry because a lighter plane usually means less fuel consumption.
You can also help your customers be more conscious about sustainable tourism and help them get inspired by offering guides with eco plans and recommendations more respectful with the environment and local communities. Some travel providers, like Smartvel for instance, offer this type of customized travel guides through widgets that can be easily inserted into your website, as you can see in the image below.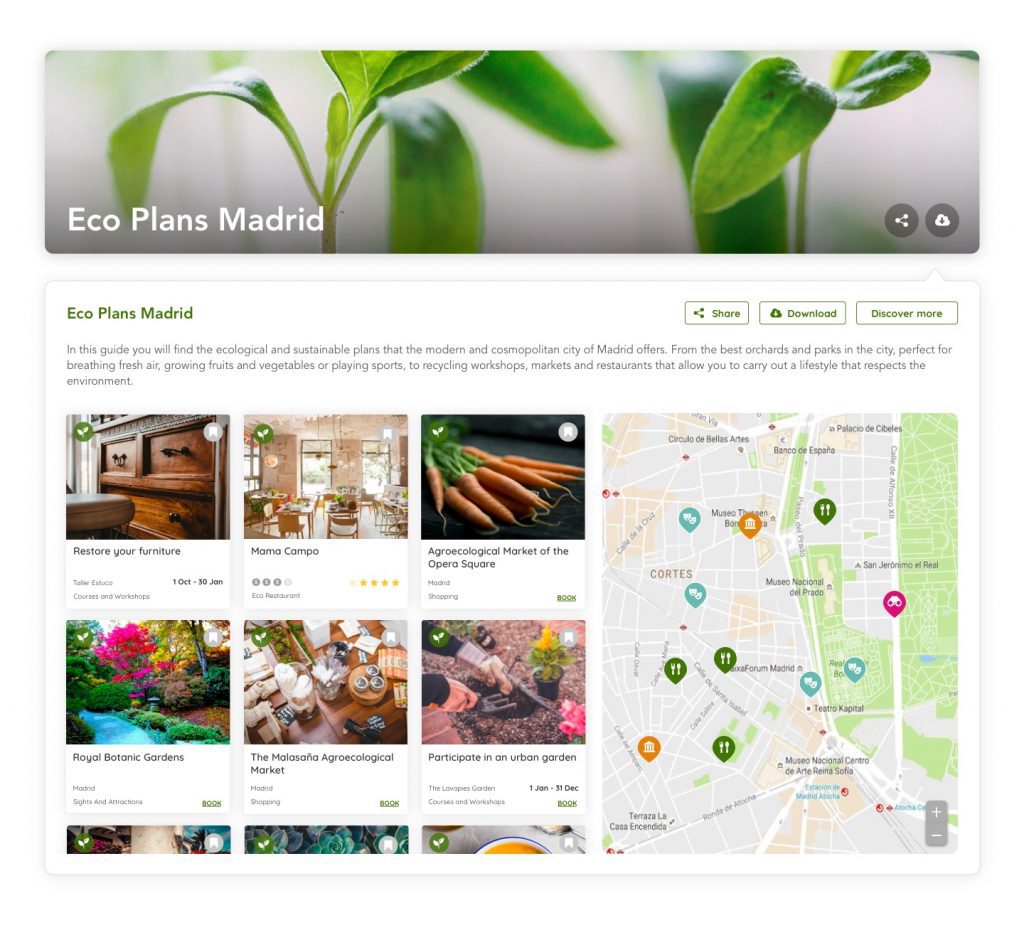 7. Contribute to Sustainable Tourism Not Only During the Flight.
Airlines also have the opportunity to help their customers consider the impact of overtourism and find alternative eco-friendly experiences that help them travel like locals and contribute to the communities economy. For example, airlines can offer ways to filter local up-to-date events and attractions on the ground. Some of these will be carbon offsetting experiences with a smaller ecological footprint. Flea Market in New York, special bike tour around Mexico City, Rural local experience in Japan, no matter where they're going, airlines have the opportunity to be more than a transportation provider.
Bonus tip: Communicate your commitment with sustainability
A good example of communication of their sustainable efforts was carried out by Iberia Airlines in the last edition of FITUR. Iberia used sustainability as the main theme for their 2020 stand which was plastic-free and built entirely out of paper. During the show, the carrier also detailed some of the actions and initiatives carried out by the company: from fleet renewal and low-consumption engines to recycling at all levels.
Airlines that can help people travel in a more conscious way and even travel to more "out-of-the-way" destinations, will attract happier and loyal customers. Sustainability in the airline industry takes planning, but it's possible.
> COVID edition: If you need to inform your passengers about Travel requirements, check out our travel restrictions solution here.