In today's fast-paced world, people are always on the lookout for quick and efficient ways to plan their trips. With an abundance of trip planning websites on the internet, many travelers rely on these and social media accounts to get the information they need to have a great time, with no unpleasant surprises (like finding out about a visa requirement upon arrival at the airport). 
But now, in the age of personalization, travel and tourism companies are taking destination content a leap further with the help of AI. By taking advantage of the latest technology, your brand can offer customers information that caters to their exact needs and interests, so they can plan a trip with complete ease and experience the best of what the destination has to offer them.
Keep reading to learn about the best kind of trip planner on the market and how providing this service can help you grow your business by leaps and bounds.
Why offer a trip planner on your company's website?
Whether your company is an airline, hotel, OTA or another kind of travel-related business, you're surely aware of the importance of having a good website in turning leads into conversions. So you may be wondering if adding a trip planner could crowd your website or distract from the services you offer.
We're here to tell you: adding content that helps clients plan their trips directly to your website is one of the best things you can do for your brand. Let's go over why that is, then look at some case studies.
1. Boost user experience
Providing trip planning content on your main website means that users won't have to dig around or open a million tabs to find what they're looking for. By incorporating UX principles into the design of your travel content, you can be sure that future customers will feel relaxed while browsing the page, and not overwhelmed by big blocks of uninterrupted text.
Smartvel's trip planner, for instance, offers several functionalities that improve user experience. The guide updates automatically, so customers can be sure none of the events they're interested in have passed. Navigation of the planner is intuitive and attractions can be filtered by location, date, and preferences.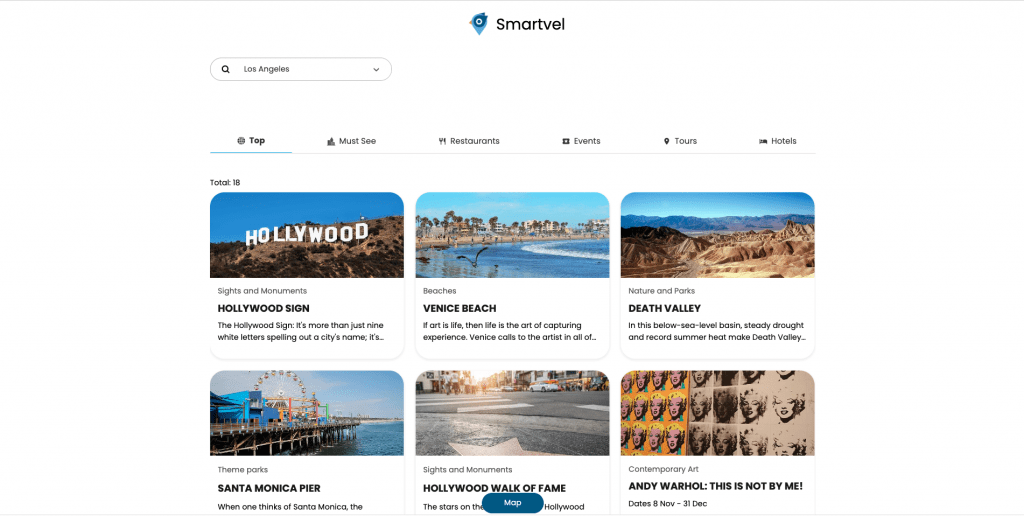 2. Drive traffic to your site
One way that trip planning websites gain traffic is through a well-planned SEO strategy. By optimizing technical SEO elements and incorporating an abundance of high-volume, low-competition keywords, tourism-related companies multiply the number of users that visit their site without a huge amount of effort.
But SEO isn't the only way that trip planning content can help you drive traffic to your site. If you provide travelers with information that is truly useful, they're sure to return to your site time and time again to refer to your guides. They're also likely to recommend your content to their friends, so you can also expand your audience through word of mouth or social media recommendations.
3. Gain loyal customers
Oftentimes, the destination content available on your company's website won't be directly promoting your own products and services. So you may be wondering if it's worth it to invest in this kind of content. But the truth that any marketer can tell you is that the customer journey starts long before a client even makes a purchase.
Trip planners boost brand awareness as they drive more traffic to your site, but their function also goes beyond that. By providing value to potential customers without asking for anything in return, you're setting them up to perceive your company positively and regard it as a trustworthy source of information, making them much more likely to eventually hire your services.
The Smartvel Trip Planner
At Smartvel, we offer a wide range of solutions, all designed to help businesses use the latest technology to enhance the experiences of travelers while building their own reputations as industry leaders. In this section, we'll go over the features of one of these services, the Trip Planner – and give examples of brands that have used it with great success. 
How it works
The technology that drives our trip planner was developed by us with the express purpose of creating a complete and customized guide for travelers. Using big data and machine learning, the planner collects information about things to do at the destination from hundreds of varied sources, then reviews it for relevancy, categorizes and translates it, and assigns it a geolocation.
The resulting guide may include concerts, fairs, tours, points of interest, and other activities and events, depending on the user's profile. Travelers then have access to inspiring trip content in their own language and which is available on multiple devices. Plus, you can fully customize the interface to fit the look and feel of your brand, and even include your own services and third-party agreements.
With our simple integration process, turning your brand's site into a trip planning website has never been easier. Smartvel takes care of almost the entire process; once the specifications and scope of the project are defined, our Operations, Content, and Customer Management teams will get to work and promptly have the Trip Planner running for the established destinations and channels.
After implementation, your company will have full control over the Trip Planner and complete visibility of its performance. You'll be able to add or adjust guides at any time using a Content Management System (CMS). You'll also receive a metrics report on a monthly basis, giving you insights about how travelers are using the platform and which kinds of content they prefer.
Success stories
Let's look at a couple of companies that are using travel content to boost brand awareness, gain a reputation as a trustworthy source of information and win loyal customers.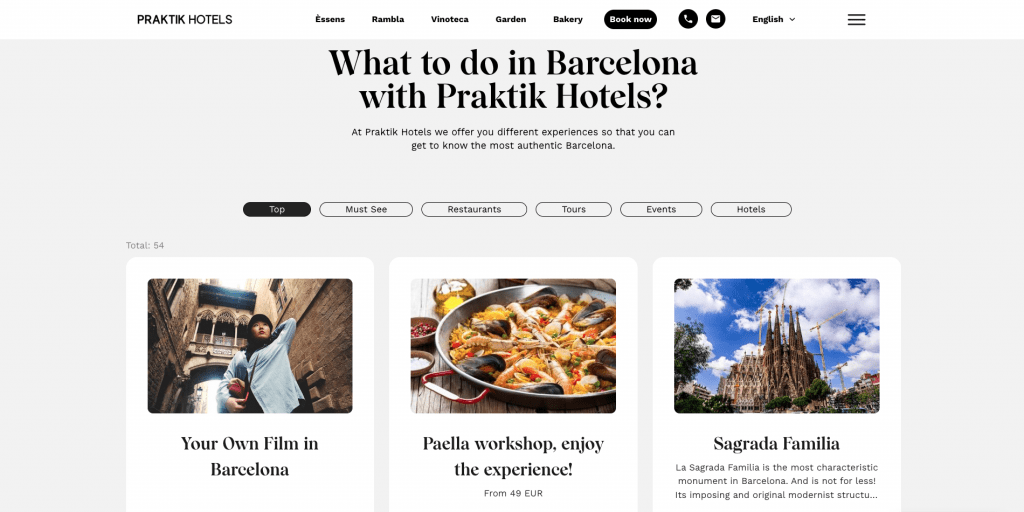 Praktik Hotels
Praktik Hotels runs five hotels, each with a different theme, all strategically located in the center of Barcelona. Thanks to Smartvel's Trip Planner, they offer much more than accommodation—they have positioned their brand as a leading source of information on things to do in a city that has so much to offer. 
The best part is that Praktik Hotels has adapted the Trip Planner so that it takes on the look and feel of their brand, blending in perfectly with the rest of their content. The recommendations are even personalized based on the theme of each of their five hotels. For example, wine lovers interested in staying at their Vinoteca-themed hotel will find recommendations for upcoming wine tastings and tours.
Singapore Airlines
Singapore Airlines is another brand that uses Smartvel's Trip Planner to offer the most up-to-date, relevant travel plans to customers and future customers. They used the API to seamlessly incorporate information from the Trip Planner onto their website, always maintaining their company's own tone and style. 
Final thoughts 
Competition within the travel industry is intense and customer expectations are on the rise. These days, if you want your brand to stand out above the rest, you need to get creative and offer value to potential customers before they even make a purchase.
For future travelers, there's nothing more valuable than information. Luckily, AI is making it so that offering relevant and up-to-date information is easier than ever before. That's why investing in the tools you need to provide travel content through your website is one of the smartest decisions you can make for your business today.