To say that 2021 has been one of the best years for Smartvel, a technology company in the tourism industry probably deserves to be told. How did a company that in February 2020 was selling destination content to airlines, hotel chains, and travel agencies, manage to grow by 132% in 2021? What could have been a long and hard journey was in fact, thanks to its capacity to pivot to a timely solution with a great "market fit", a qualitative leap in the client portfolio and in the company's growth.
At Smartvel, we have always aimed to help travelers experience travel to the fullest. Through agility and innovation, our team worked together in 2020 to address the needs of the travel community, leading to the development of our Travel Restrictions API. We believe this tool can play a key role in helping travel recover, safely and confidently.
The Road to Smartvel's Travel Restrictions API and widget
Let's start with some context. Smartvel was born 8 years ago with the purpose of creating a semi-automatic content system capable of inspiring travelers with all the relevant information about a destination. Content related to sightseeing and places one cannot miss, but even more important, including a live agenda of that destination's concerts, musicals, exhibitions, markets, fairs… everything that's going on while in a specific destination and cannot be found in travel guides. However, in March 2020 that content was no longer relevant. As markets opened up, travel companies needed to stimulate demand, and the first and most obvious thing was to be able to answer the main question that post-pandemic travelers asked: Can I travel, and what do I need in order to travel?
In May 2020 Smartvel released its first travel restrictions API MVP (Minimum Viable Product). In the following months, two of the world's largest airlines relied on Smartvel's technology and COVID regulatory content, and during 2021 other airlines, hotel chains, OTAs, cruise lines, laboratories, and travel insurance companies joined in.
COVID Vigilance, a Necessity for Travel Providers
The content on travel restrictions was relevant in 2020, 2021, and is still relevant today. The industry recognizes that COVID restrictions will remain. One of the things that this interesting Phocuswire article about the "Six ways COVID has changed the airline industry" highlights, is that border closures are here to stay, and travel brands need to be ready to reduce uncertainty and help travelers.
Some facts to illustrate it. In 2021 we've managed an excess of 100 average daily changes in our systems, updated on average below 2.5 hours after our system detected them in its hourly checks. There have been many peaks, for example with the Omicron variant causing sudden shifts in travel restrictions. It is also relevant to mention the variety of changes depending on the country. Some countries have had more changes than days in a month.
During all these months Smartvel Travel Restrictions widget and API solutions have been evolving, adapting to regulatory complexities and customer needs to become one of the most widely used and trusted solutions in the market.
Top 5 Travel Restrictions solution developments in 2021
1. Widget with more personalized answers for each traveler
Countries have been creating their own regulations and changing them according to the impact of the different waves. Providing travelers with information related to their personal situation is key. Smartvel's solution is able to respond to the thousands of possible combinations per city pair, depending on origin, destination, nationality, residence, and vaccination status.
2. Structured data in the API
The use of travel restrictions content has increased as travel companies, particularly airlines, have had the need to integrate it into the various stages of their customer journey. This has meant a growth in use cases and the need to have the travel restrictions API information very structured in order to develop a complete integration. Thus, the use of the content for chatbots, emails or to streamline the onboarding process has been expanding considerably.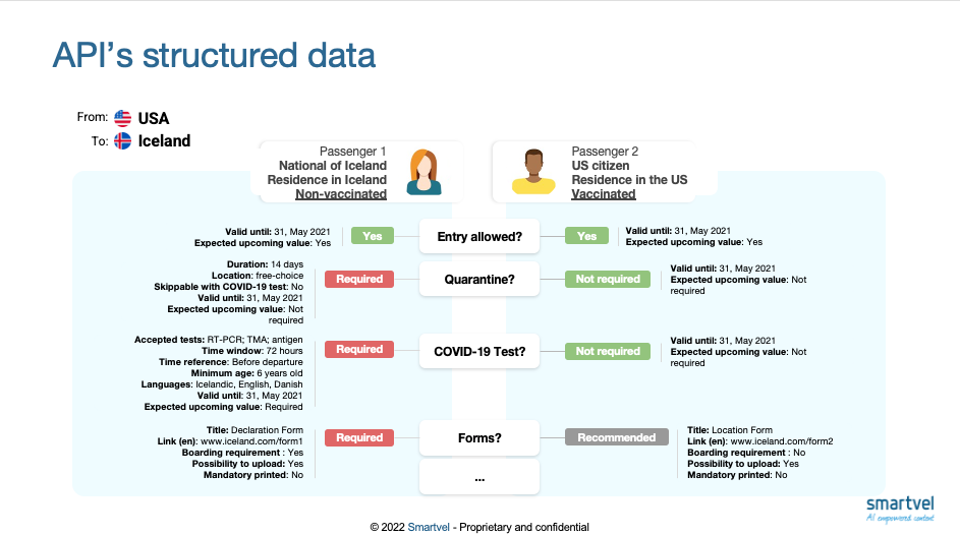 3. Added widget customization capability (filters, label names, customer's own info)
When we talk about customization, we don't just mean integrating our solution within our clients' websites and adapting it to their brand image. There are conditions, rules, or regulations unique to each client that need to be enclosed in the content of general restrictions. For that reason, our widget is prepared to create new categories of customer-specific information, like special flights requirements or airline's forms. Additionally, information about specific test locations or agreements with COVID test vendors can be included.
4. Transit information, previous stays, and local regulations
COVID regulations can be dependent on many factors that companies must take into account in order to provide complete information to their travelers and avoid unexpected surprises. Some of those factors are potential requirements regarding tests or forms when making air transits or when the traveler has previously been in other countries. The Travel Restrictions widget now includes these fields to provide more accurate information and make it easier for the traveler to understand the regulations.
5. More integrations and use cases (bot, onboarding, pricing…)
We strongly believe that securing partnerships with key players in the industry solidifies our products. Therefore, we have partnered up with top companies in the travel industry to provide the best fares available, visa information, and to secure the offline process at the airports. Foremost, as a customer-centric company, our close collaboration with our customers is what makes us understand their needs and enables us to develop our roadmap.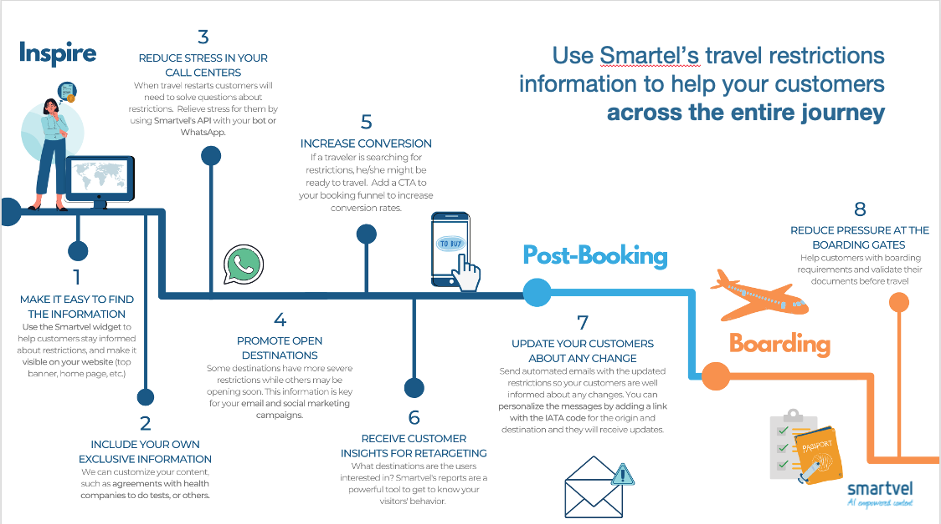 2022: Recovery is here to stay
And while the industry is convinced that we are on the road to recovery despite Omicron, it also acknowledges that regulations are going to be with us, if not forever, for a long time to come. That's why it's important that travel companies continue to build trust among their travelers by providing complete and up-to-date restrictions information. It's also crucial that information is easy to read, as end-users like to only read what is strictly necessary. That is why we've gone for a "Traffic Light" model that makes it easier for them to recognize key factors.
New needs come very often. For example, understanding clearly what every country considers to be fully vaccinated is becoming a challenge, and we are addressing that need in our widgets and our APIs.
During 2022, Smartvel will continue to work on providing travel companies with the information travelers need: inspiration, pricing, and regulations.
The integration of these 3 pieces of content will add value to the user experience. Soon we will be able to provide information on what to do in a destination, the best prices, and the regulations, COVID requirements, and documentation needed to travel.