Let's talk about one of the
airline trends
that is here to stay: Destination Content on Social Media.
Over the past few years, the travel industry has witnessed the pivotal role that social media plays in shaping customer behavior and preferences, and the airline industry is no exception. With a massive user base spanning across the globe, social media networks have emerged as a powerful source of inspiration for travelers. The use of social media has grown exponentially over the last decade, and it has become ubiquitous across all age groups. It's not just limited to the younger generation anymore, as adults are increasingly engaging with this content every day.
Social media networks as the new search engines
The digital revolution in the travel industry
Airline trends have shifted as the younger generation now looks beyond traditional search engines like Google and focuses on social media networks such as Instagram and TikTok. In fact, more than 40% of young people turn to social media for restaurant recommendations, socializing tips, entertainment ideas, and even travel inspiration.
This has led to The New York Times dubbing TikTok as the new search engine for Generation Z. As per a recent study by IAB on Social Networks in Spain, 62% of users are influenced by the opinions of third-party users on social media when making purchasing decisions.
An active social media presence provides added value for users who trust brands with an engaging and dynamic social media account. Hence, incorporating social media networks into an airline's marketing strategy is crucial to enhance search engine positioning and build trust and credibility with the target audience.
To capitalize on this trend, travel companies can optimize their presence on popular social media platforms like TikTok, Instagram, and Facebook to attract potential customers and gain more visibility. As many consumers discover new brands through social media searches, having a robust social media presence can significantly increase a brand's exposure.
The viral trend of #tiktokmademebuyit demonstrates the undeniable impact of social media on purchasing behavior, emphasizing the need for brands to establish a strong social media presence to connect and engage with their target audience.
How do Social networks influence purchasing behavior?
Airline trends are constantly evolving, and social media platforms play a significant role in influencing purchasing behavior, according to a recent study published by Digital LBI. Over 80% of the population recognizes the importance of social media in their purchasing decisions, making it a crucial factor for airlines to consider in their marketing strategies. With visually stunning and dynamic videos, Instagram and TikTok have emerged as dominant players in the travel content space, particularly for younger generations. TikTok, in particular, has thousands of accounts dedicated to travel content, offering inspiration and information to travelers before they visit a destination.
As Google recognizes the growing importance of TikTok in reaching younger audiences, incorporating an SEO strategy for TikTok can help airlines tap into this burgeoning market.
To ensure that social media content is readily consumed by the audience, it is recommended that videos:
Be short, snappy, and visually appealing. Quick videos with minimal text that do not require the viewer to turn up the volume are ideal.
Should serve a purpose, whether it be to answer a question, fulfill a demand, or inspire users.
Creating viral content on social media can be challenging, as it is unpredictable and difficult to achieve. Rather than solely focusing on virality, it's recommended to create high-quality, entertaining content that resonates with the target audience. This can result in long-term engagement and a loyal following, which is a more realistic approach to social media content creation.
Research has shown that live videos and stories on social media have a significant impact on shaping tourist behavior. A study conducted by Hu et al. (2017) and published in Computers in Human Behavior found that live videos and stories are powerful tools for conveying authenticity and proximity, creating memorable tourist experiences, enhancing the appeal of a destination or brand, and building an alluring destination image. Therefore, incorporating live videos and stories into an airline's marketing strategy can help to establish a connection with potential customers and provide them with an immersive and authentic travel experience.
How do airlines use social networks?
We have elaborated the following cumulative bar graphs to analyze the presence of airlines in four different social media networks. The first graph is focused on showing where airlines are currently present on social media. The second graph shows the type of content being created. (Content updated as of 3 April 2023.)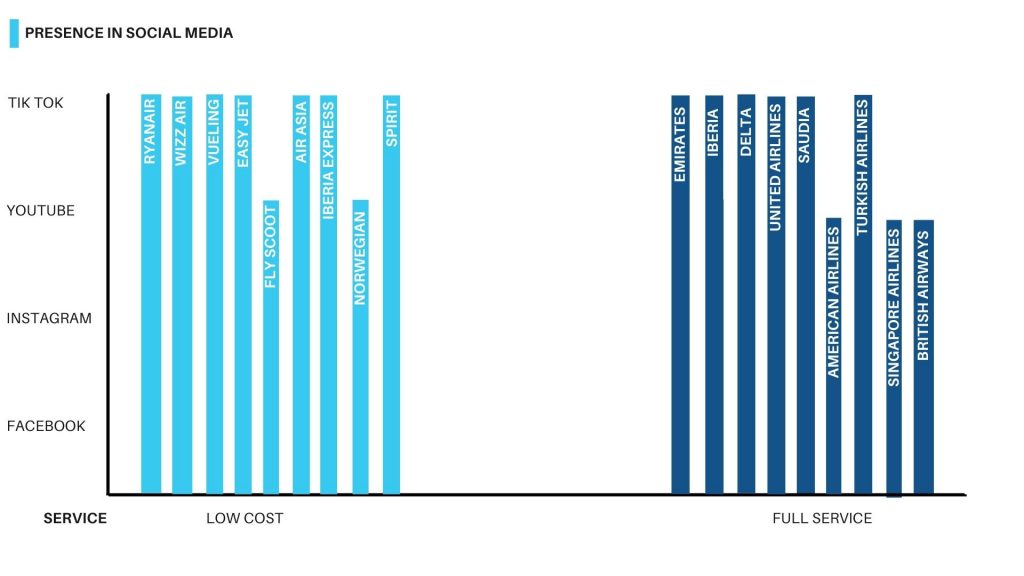 On the horizontal axis, airlines have been divided based on their service type (low-cost and full-service). On the vertical axis, we have included the social networks and the the type of content typically published on each of them.
We now have introduced the orange dots according to the type of content the airlines publish. We distinguish three main categories of content: pop culture, destination and corporate content. These can be found on the vertical axis on the left-hand side.
The study reveals that the presence of regular or low-cost airlines on social media networks does not determine their success, but rather the type of content they publish. Regular airlines tend to showcase more corporate content, while low-cost airlines opt for more controversial, humorous and trendy content. These discrepancies could be attributed to factors such as their target audience, brand image, and reputation.
Interestingly, the study found that 75% of low-cost airlines and 67% of regular airlines have a presence on Facebook, Instagram, YouTube, and TikTok, with only a small number not utilizing TikTok. These findings suggest that airlines are recognizing the importance of social media platforms in their marketing strategies, regardless of their category.
Conclusions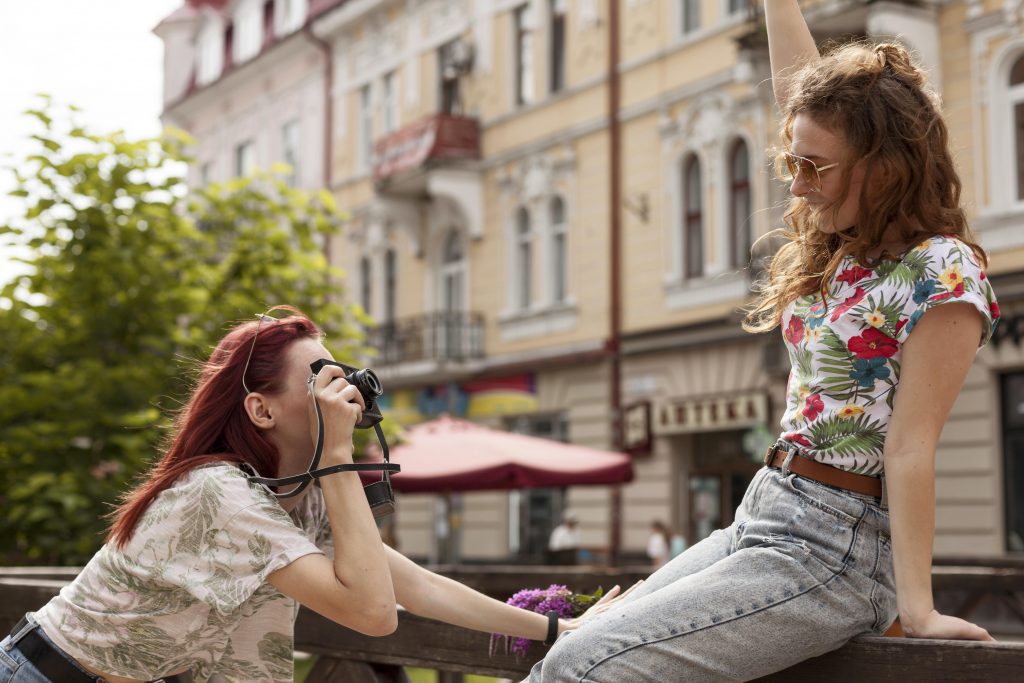 Social media has significantly impacted the way consumers make purchasing decisions, particularly among younger generations who are no longer relying solely on search engines like Google.
Studies show that over 60% of people recognize the influence of social networks on their purchasing behavior, with Instagram and TikTok emerging as the top platforms for travel content.
Short and visually stunning videos on Instagram and TikTok provide a more dynamic and engaging experience for younger audiences, leading both conventional and low-cost airlines to increase their presence on these platforms.
While conventional airlines tend to adopt a more corporate approach in their social media content, low-cost airlines tend to feature more casual and trendy content, differentiating themselves from their competitors. As such, having an effective social media strategy is crucial for airlines looking to tap into this growing trend and engage with their target audience.