The future of hospitality is bright. New hotel brands are popping up everywhere to accommodate the increase in travel and they're all looking for ways to stand out in the hospitality landscape. One way to do that is to offer personalized modern comfort through technology. "Smart hotels" reference the world of "smart" everything where connectivity is present in everyday actions.
Smart hotels provide guests with an innovative technology-first approach. It addresses the way we live today and our high digital expectations.
Hospitality is Connected
Current trends in hospitality go far beyond free wifi and USB chargers in the wall. Now many guests expect everything to be automated and controllable by smartphone. Smart hotel trends include voice-activated controls like Amazon's Alexa and Google Home. Guests can lie in bed and order room service, make reservations, or dim the lights through voice commands. For many guests, voice activation is an extension of already ingrained habits.
Smart hotels are timesavers. Guests no longer have to pass by reception because they can check-in and check out directly from their phones. They can use their phones as room keys. All without having any human interaction. They're energy savers too. For example, when guests can control their room temperature via a mobile app, they can turn the air conditioning off when they leave for the day and turn it back on before returning to the room.
Other trends seem straight out of a science fiction novel. Robotic room service, for example, and interactive maps so that you can "see" into area restaurants via augmented reality (AR), are cutting edge.

What does it mean to be a Smart Hotel today? Check these 5 Examples.
Before, old-style luxury meant chandeliers and butlers, today, it means taking a technology-first approach. Millennial travelers especially, have high digital expectations. They want to discover new options and book tips and tours directly from their phones. In fact, their phones are the first place they go for everything from entertainment to ordering food.
Smart hotels cater to the habits of their guests. Here are five examples of hotels incorporating cutting edge technology: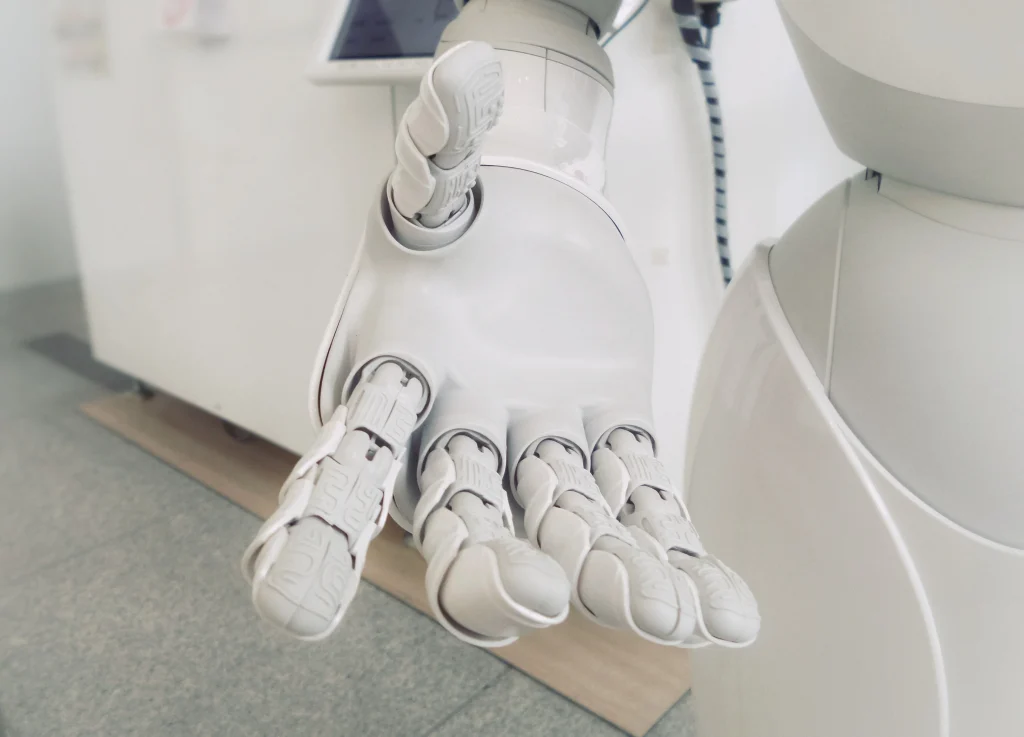 1. Yotel Singapore Orchard Road Hotel– Room service robots bring you food, drink, and extra towels in Singapore. In New York, the chain has the first "porter" robot who will take your luggage and store it for you. This hotel won first place in the Technology Excellence Awards 2019, in the "Robotics for Hospitality & Leisure" category. They don't stop with robots. The lobby also welcomes visitors with smart self-check-in and out kiosks like the ones at airports. They offer SmartBed ™ with memory foam mattresses for a great night's sleep and Smart TV's mean you can plug-in your own devices.
2. CitizenM– This European-based chain opened its first hotel at the Schipol airport in Amsterdam in 2008/2009. According to hospitality technology writer, James Harrison, "it's a hotel with technology at its heart". With "affordable luxury" as their tagline, they're aware that today's traveler associates luxury with convenience rather than butlers and concierges. The technology is centralized and well-integrated so that everything works seamlessly. Guests can use their mobile devices to control all the functions within the room. CitizenM also created co-working friendly lobbies and put an ironing room on every floor. The result is a space with a clear purpose and potential for a social component too.
3. The Wynn Resort in Las Vegas – With the voice-activated Alexa device in all 2000 rooms, every guest can request music, change the tv channels, adjust the volume and thermostats and ask for weather reports. There's an app that aids guests in making spa appointments and reservations too.
4. The NH Hotel Berlin, Germany – Star Wars comes to life with holographic technology at this hotel. Beam your meeting attendees or presentations right into the room in Berlin, Milan, and Barcelona.
5. Eccleston Square, London – Even historic hotels like London's Eccleston Square have figured out a way to meet the need for digital. The boutique hotel features a Georgian exterior to match its historic neighborhood but inside, it offers keypads to control lighting and iPads for concierge service.
Technology doesn't only improve the guest experience but it can also contribute positively to process optimization and improvement of Hotels' KPIs.
For instance, Iberostar Hotels & Resorts has achieved a significant reduction in booking cancellations in its hotels in just four months thanks to 'data science'. They created an algorithm using the data of past reservations to see which new reservations were most likely to cancel. Based on those findings, they confirmed these reservations via email or call center which significantly reduced their booking cancellation rate.
Another hotel chain that is becoming smarter thanks to the use of technology is Ilunion Hotels, that has reached a +12% CTR on their booking confirmation and pre-stay emails by incorporating a link to a personalized destination guide based on their guests' travel dates using an AI-empowered content solution.
These smart trends run in hotels at all price points. Modern luxury is often convenience-based and while we don't have a crystal ball to predict future trends for smart hotels, we know it will be technologically-driven and designed to increase personalization and drive more revenue. For example, there are already smart hotels that can change the carpet color based on the guest's preference or greet them with a favorite song when they reach their room.
We can predict that augmented and extended reality will become a crucial part of the guest experience. We can assume that more and more guests will expect personalization not just in the room amenities, but how the hotel provides for their experience of the entire city. Current technology offers ways for guests to easily discover current event schedules and culturally immersive experiences to enhance their visit. There's no doubt that the future of hospitality is connected.
With the recent Covid19 outbreak, the hotel industry is adapting to the new standards in order to ensure their future guests' safety. Along with the need for reducing face-to-face contact, digital and 'contactless' services are becoming the top priority for hoteliers in the current health crisis. From online check-in solutions and smart keys to open the room in one click, to travel information apps, non-paper brochures, and extreme disinfection measures.
Smartvel for instance provides a completely digital solution to keep customers up-to-date with all the things to do around your property, and updated information on events, restaurants, top sights and tours during the pandemic, to be aware of what's open and what isn't opened and make the most out of the stay.