It's hard to believe that just over a year ago, overtourism and the sustainability of travel were focal points of the travel industry. Now, vaccine rollouts and the return of the travel economy are top of mind. Some airlines, OTAs, and destinations have restructured, and all are scrambling to find a path forward in this new era.
While no one can predict what the second half of 2021 will bring there are a few bright spots. There's an acceleration of contactless technology, an even greater reliance on digital, and a host of new sanitary and health protocols. Together these will help travelers feel comfortable traveling again. Between reassurance that it's safe to travel and the pent-up desire to travel, the summer 2020 has had more demand than initially expected.

Some indicators seemed to confirm this. For example, the International Air Transport Association (IATA) forecasted that in 2021the total number of global passengers would reach more than 50% of pre-COVID levels. A recent Forbes article reports that 'revenge travel,' referring to an increased eagerness to travel and a decreased willingness to cancel a trip after spending the majority of the last year stuck in the same place, will be an important factor throughout the remainder of the year. This is especially true for travelers in the USA, where the industry has seen a huge jump in domestic and rural travel.
In any case, Qatar Airlines offers a "travel with confidence" program with no change fees and ticket extensions of up to two years. American Airlines has adopted physical distancing measures from check in, like spacing out ticket agents and requiring masks from both staff and passengers. In some places, local areas will also require a thermometer check.
Borders have been slowly re-opening, and travel to some EU countries is already possible for vaccinated visitors. However, the fear around virus variants, like the Delta variant, are causing some countries (most notably the UK) to reimplement lockdown measures or delay the lifting of pandemic restrictions.
Another trend has been the increase in hotel bookings. Though travelers are looking to smaller, boutique hotels and those located in uncrowded areas rather than vacations to crowded cities and resorts. That being said, some vaccinated travelers are becoming less and less bothered by crowded venues, especially in places that utilize vaccination as an entry requirement.
Potential travelers want reassurance and they're asking questions like:
Where is it safe to travel?
Are there flights available?
Is it safe to fly?
How can I find out if a specific destination is even open for tourism?
Can I travel internationally?
Do I have to self-quarantine when I arrive?
Can I get a refund if I need to cancel?
Will I be able to enjoy things in the destination such as beaches, museums, tours, restaurants etc., or will everything be closed?
Currently, there is a lack of coordinated information for both travelers and travel companies when it comes to these answers. Individual destinations are creating varying "Seal of Approval" type of certifications for their hotels and restaurants. Governments are doing the same.
Mexico's Mayan Riviera for example, has created the "Mexican Caribbean Clean & Safe Check Certification" which offers guidelines and training for the highest standards of sanitation.

The purpose of these certifications is to allay the traveler's concerns regarding the spread and containment of COVID. Enhanced sanitary protocols are a key endeavor to safety and will likely have a strong focus over the coming months in marketing and implementation.

Yet, with frequent changes and no single source of information, the travel industry is in a quandary. How can it communicate the most up-to-date information with their customers and help them feel confident?
5 tech solutions to help travelers feel confident again
COVID-19 has sped up the rate of technology adoption for airlines, OTAs, and destinations in the travel industry. From voice-activated kiosks for temperature checks to current travel regulations, technology will help customers feel more comfortable about traveling.  

Here are a few innovations to help travel safety and confidence.
1. Strict Health Protocol
New technologies for monitoring temperature and other vital signs are expected. One such device is a voice-activated kiosk that's being tested at Abu Dhabi Airport. It monitors temperature as well as heart and respiratory rate. This way, if someone shows symptoms of illness, the check-in process is halted and they're not able to fly and risk infecting others.

In Hong Kong, CleanTech is a complete disinfection booth that uses technology like "nanoneedles" to sanitize a person. The person steps into the booth and in seconds is "disinfected" through a high-tech process.

Low tech protocols include mask requirements for passengers and staff, limited or reduced food and beverage service, and possibly PPE garments for airline staff. Passengers may be required to have some sort of "immunity certificate" or another type of health passport in order to fly.
2. Contact Tracing
One type of "immunity verification" China has implemented is a color-coded QR code. Green means the person is virus-free and their location is tracked by authorities.

It's unclear how likely the West will be able to enforce such stringent tracking mechanisms, but contract tracing apps are in development. In England, people with COVID-19 symptoms are encouraged to register with a website and alert their recent contacts if positive.

With the airline industry, it's likely that a protocol is being developed so if a passenger tests positive, the airline can contact the other passengers.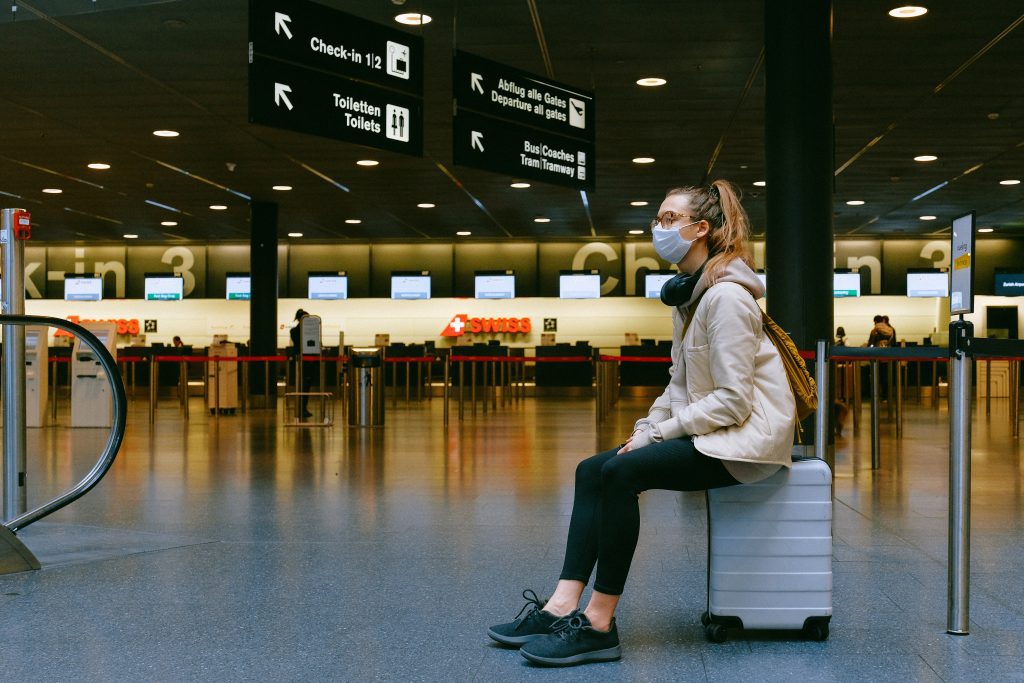 3. Sanitary Measures
Hospitals already use special materials with antimicrobial coatings for walls and surfaces. Now the travel industry is considering them too for high traffic areas. UV lights can also be used for cleaning surfaces and/or small portable items like remote controls.

As mentioned above, hotels have developed new sanitary measures and are training their staff. Hospitality workers the world over are receiving new COVID-sanitation training and guests expect temperature checks and other measures.
OTAs may strengthen their positions due to travelers' reliance on reviews. OTAs can gain even more trust with badges or other emblems of sanitary measures to allay fears.
4. Increased Automation
While automation was underway in many sectors of the travel industry, the desire to limit human contact has accelerated demand. From voice-activated kiosks to robotic cleaners, we'll see a higher level of technology in the coming months.

For example, a contact-less concierge can send guests personalized travel guides.
5. Up-to-Date Travel Advisories
One of the key tech solutions is a COVID-19 Travel Advisory widget that allows airlines, OTAs, and other travel companies to provide information to their users on the travel requirements and policies in each country and destination where the user is planning to travel thanks to Smartvel's AI.

While there's a lot of uncertainty, we do know that the travel industry as we previously knew it has been disrupted. Early indications show people are ready to travel. However, they do require reassurance and communication on which destinations are open, will they be expected to self-quarantine upon arrival, and much more. 
  
In order to improve confidence, airlines, OTAs, and other travel verticals will rely heavily on technology for communicating new guidelines and protocols.
*Paris image credits to The Paris Photographer.